Global Cultural Adventurers, Inc (GCA) 'is an organization dedicated to helping university students overseas step out of their countries and explore the diverse culture in the United States.'
From January 20 through the first week of February 2020, four Chinese students volunteered at the BCCSD, every day, from 9:00 a.m. until about 3:00 p.m., Monday through Friday. They helped our blind and low vision people with craft projects, parties, Bingo, and our daily lunch program.
Chinese New Year, also known as Spring Festival, is the most important holiday in the Chinese calendar. The 2020 Year of the Rat began on January 25 and lasted for around 15 days. Our Chinese students helped us celebrate their culture by making Chinese dumplings, and Asian noodles for lunch.
Kaiming Yang (Sunny), Min Tang (Mini), Keke Zhou (Coco) and Xiwen Luo (Justin) were polite, courteous and very respectful to our blind and low vision participants during their visit. They joined in and became valued members of our organization. We miss them and wish them much success for the future.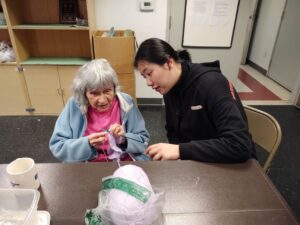 Blind member Cindy teaches Volunteer Justin how she makes scarves.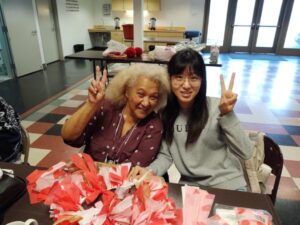 Low vision member Lucy and Volunteer Sunny make decorations for fundraiser.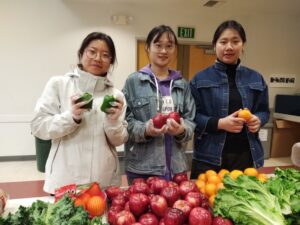 Coco, Mini and Justin help with Corner Grocery program.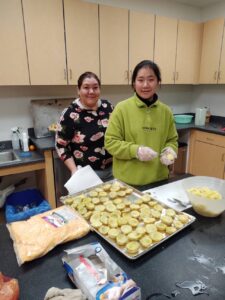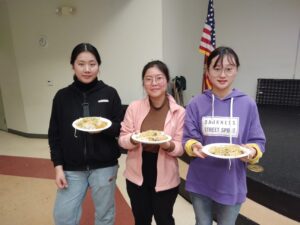 Helping Karla in Kitchen, showing off Chinese dumplings and Asian noodles.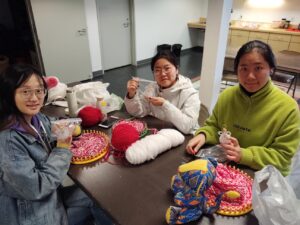 Making hats on a loom.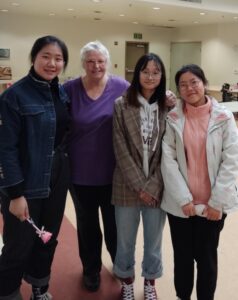 Blind Community Center Christie with Justin, Mini and Coco.