Blind Community Center crafters entered the crafts competition at the San Diego County Fair again in 2019. The theme was 'The Wizard of Oz'.
BCCSD crafters designed and then created lamps from safety pins and beads. They were rewarded with first place ribbons and one best of show.
The lamps were fashioned from our basic Santa and Snowman pattern.
Then crafters imaginations took over. Sighted volunteers helped with hot glue and some assembly.
Here are the beginning plans for the Wicked Witch and the Cowardly Lion.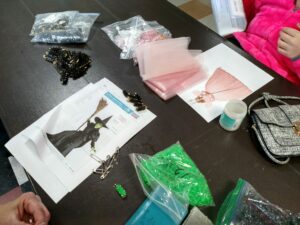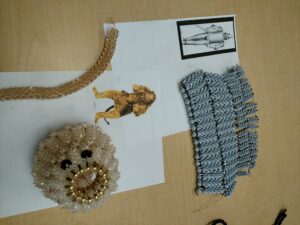 Below are pictures of: Dorothy and Toto, the Scarecrow, ripped apart by flying monkeys, the Flying Monkey (best of show), Glenda, the Good Witch, the Wicked Witch of the West, the Wizard, the Tin Man and the Cowardly Lion.